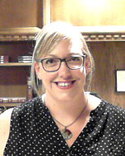 Laura Taylor
Assistant Professor of Educational Studies
Laura A. Taylor is an Assistant Professor of Educational Studies at Rhodes College in Memphis, Tennessee, where she teaches courses on literacy teaching and learning in urban schools. Prior to earning her doctorate, she was a teacher at a public elementary school in Houston, Texas. In both research and teaching, she centers the role of talk in learning, considering how teachers and students construct knowledges, discourses, and identities through interaction. Her current research interests include the enactment of humanizing pedagogies within accountability-constrained schools, multimodal perspectives on identity construction, and the pedagogical possibilities of narrative. Laura's interest in talk and interaction is rooted in critical and reconstructive orientations, viewing language as a key means through which teachers and students can both (re)produce and transform oppressive social institutions and systems. 
 
Selected Publications
Taylor, L.A. & Hikida, M. (in press). Unpacking everyday critical pedagogy: Languaging critique and dialogue. Literacy Research: Theory, Method, and Practice.
Taylor, L.A. (in press). Discursive stance as a pedagogical tool: Negotiating literate identities in writing conferences. Journal of Early Childhood Literacies. 
Hikida, M. & Taylor (in press). "As the test collapses in": Teaching and learning amid high-stakes testing in two urban elementary classroom. Urban Education.
Taylor, L.A. (2019). Negotiating discourses of curriculum and time: Tensions of humanizing and dehumanizing discourses in an urban elementary school. Equity & Excellence in Education, 52(2-3), 312-326. 
Taylor, L.A. & Casey, Z.A. (2019). White teacher educators, Black teacher candidates, and African American Language: Ideating paradoxical readings of African American Language in teacher education. In S.L. Raye, S. Masta, S.T. Cook, & J. Burdick (Eds.), Ideating pedagogy in troubled times. Information Age Publishing.
Taylor, L.A. (2019). Rights, duties, and spaces of agency amidst high-stakes testing. English Teaching: Practice & Critique, 18(2), 204-217.
Khan Vlach, S., Taylor, L.A., & Mosley Wetzel, M. (2019). "Exploring this whole thing of social justice" narrative as a tool for critical sociocultural development in teacher education. Pedagogies: An International Journal, 14, 62-77.
Taylor, L.A., Khan Vlach, S. & Mosley Wetzel, M. (2018). Observing, resisting, and problem-posing language and power: Possibilities for small stories in inservice teacher education. Linguistics and Education, 46, 23-32.
Land, C., Taylor, L.A., McKinnon, B., & Lavender, H. (2018). Making space for choice, voice, and critique: Critical literacy workshop in the era of Trump. English Teaching: Practice and Critique, 17(1), 28-43.

Taylor, L.A. (2017). How teachers become teacher researchers: Narrative as a tool for teacher identity construction. Teaching and Teacher Education, 61, 16-25.

Mosley Wetzel, M., Taylor, L.A., & Khan Vlach, S. (2017). Dialogue in support of learning to teach: A case study of a mentor/mentee pair in a literacy teacher education programme. Teaching Education, 28(4), 406-420.

Taylor, L.A. (2015) What is an excellent education?: The role of theory in Teach For America. In J. Brewer & K. deMarrais (Eds.) Teach For America Counter-Narratives: Alumni Speak Up and Speak Out. Peter Lang.
Education
Ph.D., The University of Texas at Austin (Curriculum & Instruction; Language and Literacy Studies)
M.Ed., University of Saint Thomas (Educational Studies)
B.S., Cornell University (Industrial and Labor Relations; Inequality Studies Concentration)