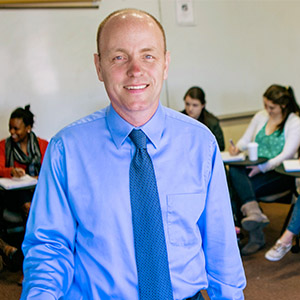 Eric Henager
Associate Professor of Spanish, Chair of Modern Languages & Literatures
In addition to courses in the basic and intermediate Spanish language/cultures sequence, Prof. Henager teaches a wide range of courses in the advanced literatures and cultural studies curriculum. Many of the advanced courses he teaches are related in some form to his primary interests in contemporary Spanish American narrative, popular culture in literature, and literary representations of transculturation. His current research focuses on the roles literature and journalism play in Latin America in modifying meanings associated with imported US cultural products, especially baseball.
SELECTED PUBLICATIONS
"Batazo a campo izquierdo: Un estudio del béisbol en las letras nicaragüenses." Intersecciones: Abordajes de lo popular en América Latina. Nos. 74-75 (2008).
"Rewriting Truth: The End of the Narrative Act in Two Southern Cone Detective Novels." INTI: Revista de literaratura hispánica. Nos. 61-62 (Primavera-Otoño 2005), 133-142.
"Inside and Outside Pitches: Reading the Cubanization of Baseball." Caribe: Revista de cultura y literatura. 6.2 (Invierno 2004), 5-28.
Education
1996, Ph.D. University of Illinois Urbana-Champaign, Hispanic Literatures
1992, A.M. University of Illinois Urbana-Champaign, Hispanic Literatures
1989, B.A. Rhodes College, Spanish