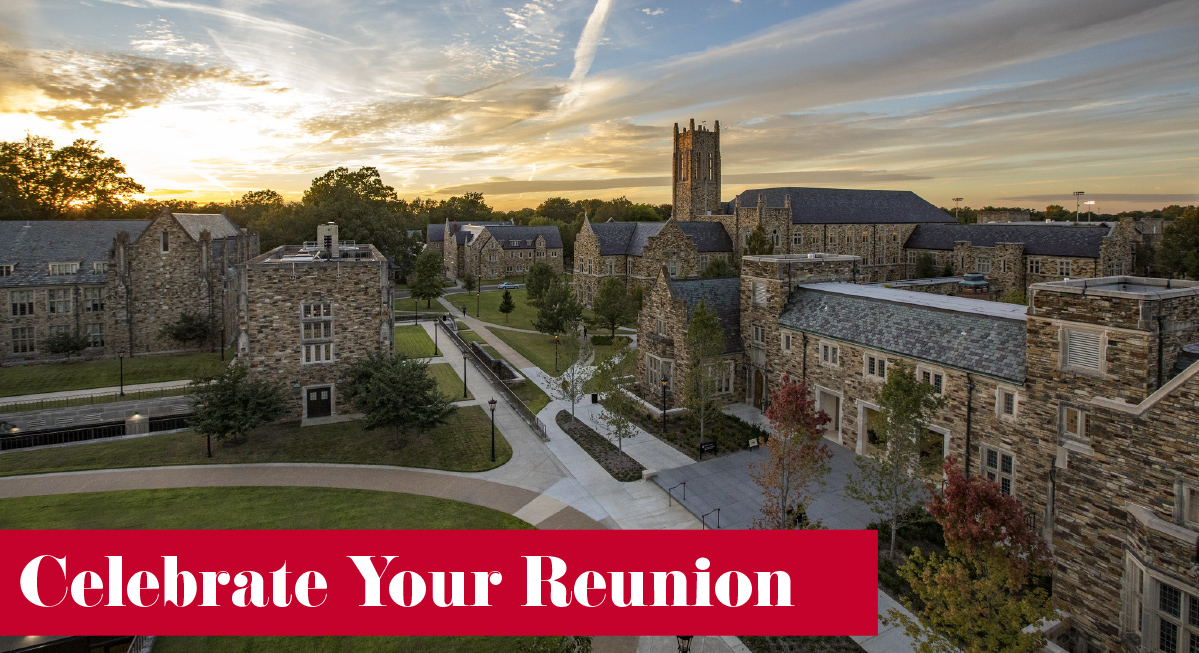 SAVE THE DATE
Homecoming/Reunion Weekend
October 1-3, 2021
---
Progress to Date for Reunion Giving Goals
Giving and participation totals are updated regularly and include gifts and pledges to the Rhodes Annual Fund since July 1, 2020. 
Select your Reunion Year from the drop down menu for current information. You can make a gift in celebration of your reunion year by completing the form at the bottom of the page. We hope to see you in October!
If you have any questions, or would like to join your reunion committee, please contact Brittany L. Tuggle, Assistant Director of Annual Giving (Reunions), tuggleb@rhodes.edu.
Class of 2016 - 5th Reunion

Current Standings
24 - Number of Donors
5.83% - Participation
$1,575.37 - Gifts and Pledges
Reunion Committee Members
Brittany Clark '16
Rachel Harris '16
Alix Harte '16
Natasha Siracusa '16
Eric Wong '16

Gifts

Regan Adolph '16
Bristol Bell '16
Alex Box '16
Paul Brandt '16
Isabelle Bruner '16
Jay Clinton '16
Jonathan Coleman '16
Evan Deere '16
Alex Dileo '16
Rachel Harris '16
Pearlissa Harris '16
Alix Harte '16
Mary Rose Hazel '16
Cecile Lonjaret '16
Ansel MacLaughlin '16
Samantha Ouyang '16
Michael Scully '16
Amber Sinclair '16
Marguerite Spiotta '16
Isabel Steen '16
Jessica Trivizas '16
DeSonya Tyms '16
Chi Whitley '16
Eric Wong '16
Kelsey Young '16
Class of 2011 - 10th Reunion

Current Standings
23 - Current Number of Donors
8.68% - Current Participation
$2,171.81 - Gifts Received as of Today
Reunion Committee Members

Eric Dailey  '11
Liz Moak '11
Jarrett Tate '11
Heather Troupe '11
Grace  Weil '11

Gifts

Chenise Anthony '11
Emily Bach '11
Matt Bergin '11
Steve Brunson '11
Andrew Campbell '11
Jessica Cohen '11
Claire Cullen '11
Holly Edwards '11
Matthew Frank '11
Alana Fritsche '11
Josie Holland '11
Kristen Jones '11
Ashley Jones '11
Christine Lu '11
Liz Moak '11
Chris Moore '11
Courtney Mott '11
Emily Nesler '11
Catherine Olson '11
Russell Powers '11
Ellen Rast Morrisson '11
Stephen Risley '11
Ken Scott '11
Kenny Sheldon '11
Heather Troupe '11
Courtney Tucker '11
Grace Weil '11
Class of 2006 - 15th Reunion

Current Standings
37 - Number of Donors
13.60% - Participation
$13,740.40 - Gifts and Pledges
Reunion Committee Members

Desmond Campbell '06
Ashely Mitchem Dillingham '06
Brent Owens '06
Gifts

Steve Ash '06
Allison Baker '06
Kate Bartholomew '06
Robbie Baty '06
Abbie Burka '06
Des Campbell '06
Meghan Clark '06
Jake Cremer '06
Jon Croft '06
Patrick Crouch '06
Laura Caroline de Lara '06
Scott Douglass '06
Sarah Fairchild '06
Andrew Godfrey-Kittle '06
Rob Gunn '06
Lydia Hathorn '06
Chrissie Hendrickson '06
Carrie Johnston '06
Daniel Jones '06
Korey Kormick '06
Celia Lerch '06
Philip LeTard '06
Molly Logan '06
Ashley Lyerly '06
Colleen Macmurdo '06
Laura McSorley '06
Eric Montesi '06
Justin Olszeski '06
Brent Owens '06
Callie Picardo '06
Anna Ritz '06
Jenny Rogers '06
Megan Shelton '06
Nicole Stranch '06
Ethan Stranch '06
Meriwether Truckner '06
Dane Wendell '06
Billy Willson '06
Caroline Willson '06
Mark Wilson '06
Class of 2001 - 20th Reunion

Current Standings
32 - Number of Donors
13.01% - Participation
$6,147.14 - Gifts and Pledges
Reunion Committee Members

Brian Clary '01
Katy Gray '01
Claire Hegarty '01
Shelley Matthews '01
Olivia Mayberry '01
Amit Merchadani '01
Leigh Pollan '01
Kate Stakem '01

Gifts

DeAnna Adams '01
Amy Andrews '01
Bryan Baker '01
Catherine Burton '01
Emily Bynum '01
Brian Clary '01
Kosta Dalageorgas '01
Keva Duckett '01
Jennifer Durovchic '01
Barnett Edelen '01
Erin Everitt '01
Anne Fajkus '01
Lauren Falco '01
Sophie Guislan Lowrance '01
Neel Gupta '01
Barrett Haga '01
Claire Hegarty '01
Karen Kopitsky '01
Sarah Lanneau '01
Erin Markel '01
Shelley Matthews '01
Olivia Mayberry '01
James-Allen McPheeters '01
Brent Robson '01
Heidi Royal '01
Liz Royster '01
Jeremy Smith '01
Andrew Sullivan '01
Dorothy Weir Cook '01
Chris Willenbrock '01
Sara Wilson '01
Patrick Yoder '01
Liz Yoder '01
 
Class of 1996 - 25th Reunion

Current Standings
35 - Number of Donors
15.09% - Participation
$17,346.00 - Gifts and Pledges
Reunion Committee Members

Jeb Hoge '96
Jennifer Larson '96
David Overend '96
Kristen Taylor Duncan '96
Class of 1991 - 30th Reunion

Current Standings
40 - Number of Donors
16.39% - Participation
$37,737.28 - Gifts and Pledges
Class of 1986 - 35th Reunion

Current Standings
22 - Number of Donors
17.42% - Participation
$26,345.00 - Gifts and Pledges
Reunion Committee Members

Knight Champion '86
Mike Palazzolo '86
Susan Stribling '86
Class of 1981 - 40th Reunion

Current Standings
45 - Number of Donors
24.14% - Participation
$19,142.00 - Gifts and Pledges
Reunion Committee Members

Stacy Abernathy '81
Margaret Freeman '81
Kevin Collins '81
Class of 1976 - 45th Reunion

Current Standings
39 - Number of Donors
22.41% - Participation
$26,563.21 - Gifts and Pledges