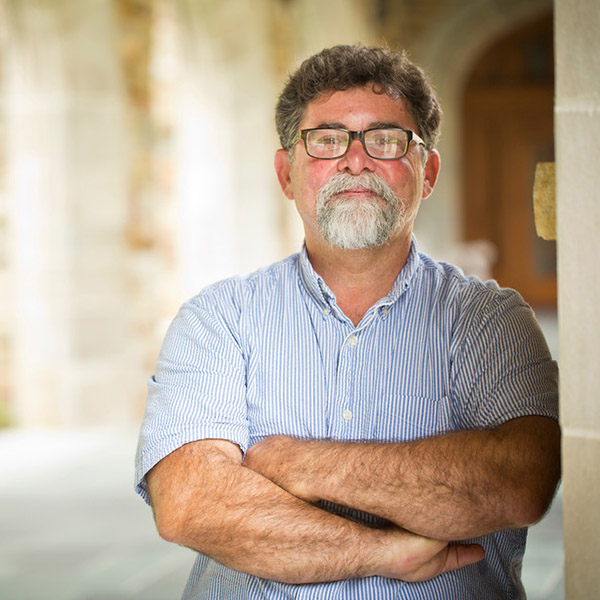 Jon Russ
James H. Daughdrill Professor in the Natural Sciences, Professor of Chemistry
My research program is focused on using modern chemical methods to analyze archaeological materials.  We use a variety of analytical methods including XRF, SEM-EDS, LA-ICP-MS and GC-MS to characterize artifacts. Recent projects include analyzing prehistoric rock paints from southwestern Texas to determine the source pigments used in to construct the ancient paints; analyzing Olmec Style rock paints from southern Mexico with a primary goal of establishing the age of the artifacts; and, analyzing residues from smoking pipes excavated from archaeological sites in Northeastern North America.
Read more about my research group »
SELECTED PUBLICATIONS
Jon Russ,* Mary D. Pohl, Chris L. von Nagy, Karen L. Steelman, Heather Hurst, Leonard Ashby, Paul Schmidt, Eliseo F. Padilla Gutiérrez, Marvin W. Rowe (2017) Strategies for 14C Dating the Oxtotitlán Cave Paintings, Guerrero, Mexico. Advances in Archaeological Practice (in press).
Joseph McPeak Mary Pohl, Chris von Nagy, Heather Hurst, Marvin W. Rowe & Jon Russ* (2013) Physicochemical Study of Black Pigments in Prehistoric Paints from Oxtotitlán Cave, Guerrero, Mexico. In Archaeological Chemistry (Eds. R. A. Armitage & J. H. Pollard) American Chemical Society Press, pp. 123-143.
Bu, Kaixuan, James V. Cizdziel & Jon Russ* (2013) The Source of iron-oxide pigments used in Pecos River Style rock paints. Archaeometry 55, 1088–1100.
Russ, Jon, Kaixuan Bu, Jeff Hamrick & James V. Cizdziel (2012) Laser Ablation-Inductively Coupled Plasma-Mass Spectrometry analysis of Lower Pecos rock paints and possible pigment sources. In Collaborative Endeavors in the Chemical Analysis of Art and Cultural Heritage Materials (Eds. Ruth Ann Armitage & Patricia Lange) American Chemical Society Press, Washington, DC, pp. 91-121.
Hess, Darren, Dana Jo Coker, Jeanette Loutsch & Jon Russ (2008) Production of Oxalates In Vitro by Microbes Isolated from Rock Surfaces with Prehistoric Paints in the Lower Pecos region, Texas. Geoarchaeology 23, 3-11.
Education
B.S., Chemistry (1987) Corpus Christi State University (now TAMU-CC)
Ph.D., Analytical/Physical Chemistry (1991) Texas A&M University