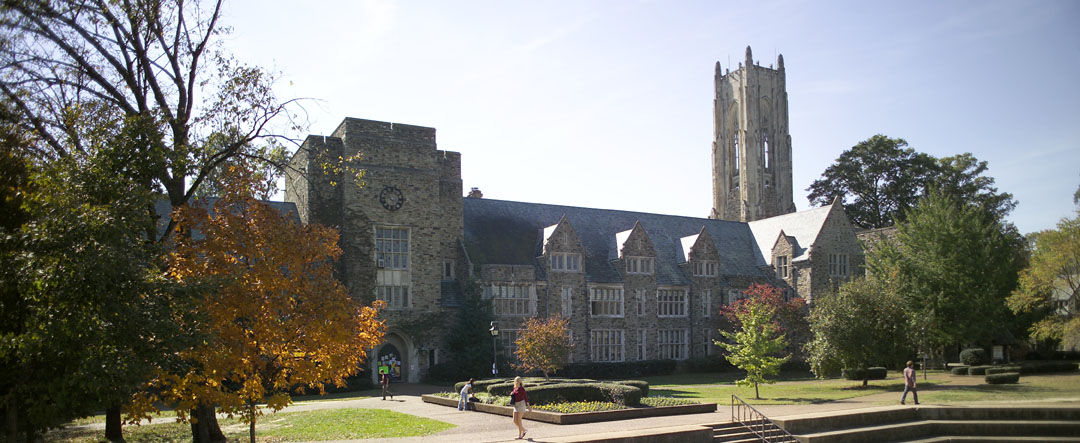 The purpose of the Rhodes Alumni Association is to promote Rhodes College, to deepen the loyalty of alumni and to encourage mutually beneficial relationships between the alumni, students and their families, faculty and staff of Rhodes College.
The duty of the Alumni Association Executive Board (hereinafter "the Board") is to direct and coordinate the affairs of the Alumni Association and to represent and serve the needs of alumni. The Board shall be the official representative of the Alumni Association to the college and to the community at large.
NOW ACCEPTING NOMINATIONS
If you would like to nominate someone (or yourself) for the Alumni Association Executive Board, fill out the nomination form. For more information, contact the Alumni Office, alumni@rhodes.edu or 901-843-3845.
The Board shall:
promote and foster a dynamic, enduring and mutually beneficial relationship between the college and its alumni;
enlist and encourage alumni support in career networking, student recruitment, and development;
promote and sustain school spirit;
provide opportunities for alumni to connect with each other and other members of the Rhodes community through meaningful programs and activities;
strengthen Rhodes' presence where we live and work;
facilitate and encourage an ongoing avenue of communication between alumni and the college;
give and encourage others to support Rhodes with their time, talent and treasure;
take on other duties as needed and directed by the Alumni Relations Office.
The Alumni Association Executive Board is the governing body of the Rhodes College Alumni Association.
The board meets twice a year, once during Homecoming/Reunion Weekend and once in the spring.
Members are elected to three-year terms.
The President and President-Elect serve for two years in each office.
Members are expected to support the college by attending local alumni events and programs, recruiting prospective students, assisting with the career network, and providing financial support.
Current Alumni Board Members

Officers 
President, Christina Weir Krueger '85, Rossville, TN
President-Elect, Josh Solomon '00, Atlanta, GA
Secretary, Robin Kelly '89, Paducah, KY

Members with Terms ending in December 2020
James Compton '71, Biloxi, MS
Sam Albritton III '82, Knoxville, TN
Angela Gailey Laster '92, Memphis, TN
Kristen Taylor Duncan '96, Memphis, TN
Alper Cetingok '97, Memphis, TN
Ross Hilliard '07, Providence, RI
Annie Bell '09, Chicago, IL
Matt Rigdon '02, Houston, TX
Mike Thompson '00, Brandon, MS

Members with Terms ending in December 2021
Livy Brien '85, Brentwood, TN
Maddie Callis '10, New York, NY
Chirag Chauhan '98, Memphis, TN
Jenny Dill '04, Houston, TX
Jim Kingman '09, Austin, TX
Joanna McIntosh '84, Arlington, VA
Vivian McWilliams '73, P'08
David Overend '96, Atlanta, GA
Saffa Koja Sleet '94, Jersey City, NJ

Members with Terms ending in December 2022
Brian Barbeito '02, Germantown, TN
Taylor Berger '02, Memphis, TN
Steve Cole '68, Peachtree City, GA
Amy Shaw Feirn '91, Metairie, LA
Priscilla Hinkle Ennis '68, Houston, TX
Melanie Hillard '92, Little Rock, AR
Demitri Jerow '14, New York, NY
Lisa Hagan Webb '05, Memphis, TN

Ex Officio Members
Board of Trustees Representative - Dan Hatzenbuehler '71
President, Rhodes Student Government - Jacob Fontaine '21
Director of Alumni Relations - Tracy Vezina Patterson '84, P'22