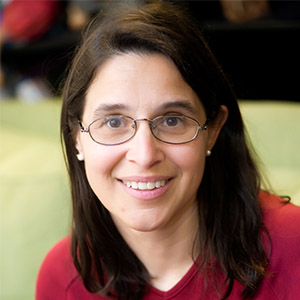 Bernadette McNary-Zak
Associate Professor of Religious Studies, NEH Professor
Bernadette McNary-Zak received her B.A. in Religious and Classical Studies, with a minor in Philosophy, from the University of Rochester (Rochester, NY). She received her M.A. in Religion and Culture from the Catholic University of America (Washington, D.C.). Her Ph.D. is from the University of Toronto, Centre for the Study of Religion, where her area of concentration was Early Christianity with a focus on Christian ascetic and monastic behavior in the later Roman Empire. She received the Clarence Day Award for Outstanding Teaching in 2011, and the Jameson M. Jones Award for Outstanding Faculty Service in 2015. She is currently the NEH Professor at the college. Her current book project explores gendered constructions of humility in early Christian monastic texts. She is the editor of the Journal of Theta Alpha Kappa.
SELECTED PUBLICATIONS
"Arousing the Eyes: Charles Darwin," Interdisciplinary Humanities 34.3 (Fall 2017): 32-37.
"Converting Alienation: The Case of Dorothy Day," Lincoln Humanities Journal 5 (Fall 2017): 25-34.
"A Question of Humility: Reading Luther's Prefatory Letter to Pope Leo X," Cithara 56.2 (2017).
"Peripheral Perspective: A Reflection on Faculty Learning," The Atrium (Spring 2017).
"Narrating Christian Conversion: Framing Tales of Two Nineteenth Century American Women," Magistra 2.22 (2016).

Seeking in Solitude: A Study of Select Forms of Eremitic Life and Practice (Wipf and Stock Publishers, 2014).
"A Call to Asceticism: Receiving the Life of Antony," Coptica 13 (2014).
Teaching Undergraduate Research in Religious Studies, co-edited with Rebecca Todd Peters (Oxford University Press, 2011).
Useful Servanthood: A Study of Spiritual Formation in the Writings of Abba Ammonas, with the Greek corpus in English translation by Nada Conic, Lawrence Morey, and Richard Upsher Smith, Jr. (Cistercian Publications, 2010). 
Resurrecting the Brother of Jesus: The James Ossuary Controversy and the Quest for Religious Relics, co- edited with Ryan Byrne (University of North Carolina Press, 2009). 
Education
Ph.D., University of Toronto
M.A., Catholic University of America
B.A., University of Rochester